Most patients begin orthodontic treatment between the ages of 11 and 15, when most if not all of their permanent teeth have erupted. By this age, parents and children have already detected many orthodontic problems such as crowded or crooked teeth, gaps, or bad bites. The good news is that treatment can take advantage of natural growth spurts during these years, and teeth can move relatively easily for most patients.
By this age, socially aware teenagers may have become self conscious or even embarrassed if they perceive they have an unattractive smile or jaw alignment. Above almost all else, teenagers want to fit in. Wearing braces is very common today, and when teens see their friends wearing braces, this alone is often enough to convince them to seek out orthodontic treatment.
Stainless steel braces are still the most common treatment option. But gone are the days where braces were big, bulky, and terribly uncomfortable. Today, braces are less noticeable with much smaller brackets and much thinner wires. And with their choice of colored rubber bands, many teens don't get just straight teeth, they get the "cool factor" and fashion accessories!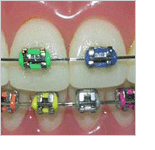 Braces today do not interfere with most sports or prevent kids from playing musical instruments. Patients do need to follow all instructions about how to care for their appliances as well as which foods to avoid.
Dr. Kasso will give you an estimated treatment time at your consultation appointment. For a typical case, active treatment with braces ranges from one to three years, although this estimate can vary based on the severity of the problem, growth factors, and patient care and compliance.