YES, IT'S REALLY HAPPENING!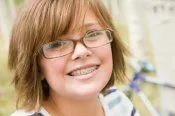 Getting your braces on can be a day with some anxiety, and one certainly filled with high hopes. This is our business; we understand the importance of this day for you, and that it can be scary, uncomfortable, and exciting all at the same time. We are on your side and here for you or your child today and whenever you need us.
GETTING YOUR BRACES ON
All of your braces may go on in one day, in which case the appointment time will last approximately two hours. Sometimes the procedure is split into 2 days, with each appointment approximately one hour. Dr. Kasso will let you know in advance. For traditional braces, the process will begin with placing bands around your back molars, and possibly placing brackets onto the front of your teeth. The exact placement of the brackets onto the teeth is critical. To minimize placement time and ensure total accuracy, the brackets are sometimes pre-arranged onto the study models of the teeth that were taken at the diagnostic records appointment. The brackets are then moved together into place on the teeth into their perfect positions. After the brackets are in place, wires are guided through the brackets. Small plastic ligatures, also called ties, are put around the brackets to hold the wires in place. These are available in all of the colors in the rainbow, and also available in clear color.
SYMPTOMATIC CARE
After your braces are on, you may experience some discomfort adjusting to your appliances and as the teeth begin to move. Every individual has his or her unique tolerance to pain, and discomfort varies between individuals for the same experience. Don't worry, any discomfort is temporary and will diminish over the next day or two. Remember, we are always here for you if you have discomfort that seems unacceptable.
We will supply you with orthodontic wax before you leave the office. Wax is used to prevent and treat irritation between your braces and your lips, gums and cheeks. Put a pea sized amount of wax on each irritated spot. Leave and keep replacing the wax on the irritated parts until the irritation stops. If you swallow the wax don't worry, it is specially made to be digested.
Eating soft foods until any discomfort subsides can be very helpful. You may take your usual over-the-counter products for pain relief per the manufacturer's instructions.